Ecuador, 2015
When regaling stories around fellow travelers, South America isn't as quick to pop up in conversation as say Thailand or Amsterdam. It's NOT for lack of wonder; it's a continent full of hot Latin flavor, ancient mystique and natural beauty that regularly tops Top 10 Lists in every category. I studied abroad in Chile in 2003 and it was a life changing trip.
I saw Jupiter from one of the massive world renowned telescopes in the Atacama Desert. I danced till the sun came up in cosmopolitan capital city Santiago. I sampled world class wine in Chiles beautiful wine valleys and sunned on it's gorgeous beaches. I hiked through jungles to waterfalls and watched my friends head to the glaciers of Patagonia because by that time I had run out of money. It wasn't until 2015 that I returned to South America, this time in Ecuador, a country I knew nothing about. I can 100% recommend traveling there! Here's a smattering of To Do's in Ecuador to whet your appetite for South American Exploration!
Heather Adams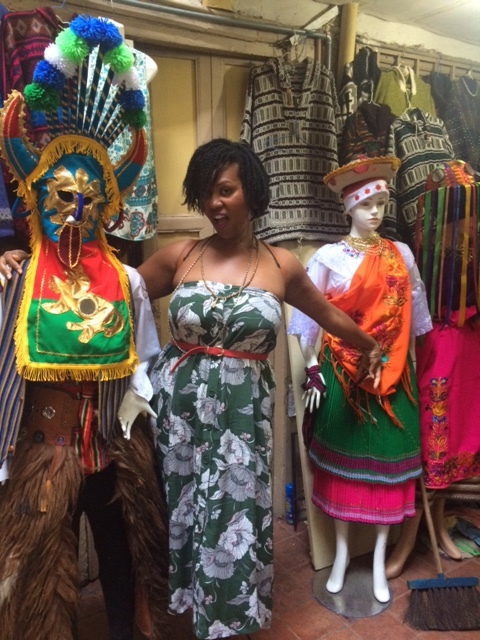 KNOW BEFORE YOU GO
Visas: Citizens of the USA, Canada and most European countries can enjoy 90 days on a tourist visa every 365 Days a year. You will need a return ticket and a passport valid for more than six months. A stay longer than 90 days will require an extended visa (a somewhat complicated and pricey process). Please note that Visa Runs (briefly crossing the border to another country to renew a tourist visa) DO NOT work in Ecuador. On a tourist visa you only have 90 days in Ecuador in a 365 day period and then must wait for the next 365 day period to get another 90 days.
Overstaying Your Visa: I overstayed my visa by 30 days and had a friend who overstayed 9 months. Neither of us were charged any fines or had any repercussions, they just won't let you back in until 9 months have passed after your leave date.
Currency: They use the US Dollar and have a few low value Ecuadorian Pesos that are used interchangeably.
Health: Avoid the drinking water during the beginning of rainy season, otherwise it's A-Ok. I suspect one sick friend may have contracted a mosquito borne illness but that was not confirmed by a doctor. If the mosquitos like you, bring repellent!
What to Bring: Climates in Ecuador range from steamy jungle and hot beach to cool mountain valleys and cold mountain tops. That said the people dress conservatively in the cities so maybe leave the Miami Beach wardrobe at home! Plug outlets use Type A and Type B most commonly used in North and Central America.
ARRIVAL AND GETTING AROUND
Air Travel: Ecuador has major airports in Guayaquil and it's capitol of Quito. Crime in Guayaquil has many people choosing to land in Quito and spend a few days touring it's beautiful streets and outer city attractions. If you are starting your trip along Ecuador's beautiful coast, landing in Guayaquil is your best bet. Landing in Cuenca may cost more but you'll be landing in one of Ecuador's most captivating cities.
Bus Travel: Ecuadorians take long distance busses vs. taking slightly overpriced flights in country. They are long but very cheap (i.e. Ane way trip from Quito to Cuenca is only $12 (9 hours) on a bus vs. $74 (5o min.) on a plane) and pretty comfortable. Local buses exist in each town for shorter trips.
Taxis: Make sure you get a metered taxi in each instance or prepare to haggle (only attempt haggling if you're competent in your Spanish).
CUENCA
Cuenca has long been considered the "San Francisco" of Ecuador and it's for good reason. Art galleries, museums, delicious eateries and an emerging LGBT scene make it a wonderful place to explore. It's been a mainstay on "Top Expat Destination" lists partly due to it's great climate, beautiful clean streets and buildings and a bunch of freaking gringos running around!
LODGING
La Cigale: Honorato Vásquez 6-28, Cuenca, Ecuador
We LOVE staying at La Cigale because it the hub for hip travelers and interesting locals of all ages in it's bar downstairs. It's also pretty cheap and it's in the middle of town in an action packed zone full of great restaurants and bars. Don't miss their great happy hour that includes their delicious mojitos for only $2. There are draw backs though.... the beds are uncomfortable, you have to ask them to turn on the hot water, the included breakfast leaves something to be desired and there can be a loud party atmosphere until the bar closes at 11pm.
TO DO
Parque Calderon: Beautiful is an understatement for Cuenca's main square. Start your trip here at the cavernous Catedral.
Double Decker Bus Tour: If you're busy feeling like this option is cheesy you'll miss out on some great historical and architectural anecdotes about the city AND a trip to the gorgeous Mirador de Turi. It was here we found an incredible view and cheap souvenirs. Rides are only $8 for an whole days worth of hop on and hop off action. There are two bus tours that run from Parque Calderon in the middle of town.
Museum It Up: There are TONS! I loved Pumapungo but check out this website for museums that are off the beaten path HERE. Any place with art by Ecuador's most famous artist Oswaldo Guayasamin is a must visit, his work is incredible.
Cajas National Park: The perfect day trip (or overnite trip if you're up for camping). Cajas has one of the most mystical landscapes I've ever seen. Looks like the Scottish Moors had a baby with the Lord of the Rings set.
Walk the Rio Tomebamba: Beautiful picturesque river walk below hoppin' Calle Larga.
Soak It Up: Banos is a small section of Cuenca where you can hit the natural hot springs for a healing experience in a lush setting. We loved Piedra de Agua and Novaqua, don't miss a the awesome mud baths at both.
PlanetAzul: One thing I love about traveling abroad is less rules and regulations! This new water park embodies this with it's ridiculous slides that couldn't be legal in the US (in a good way!). For the less fearless, there's a huge hot swimming pool complete with swim up bar. It's only $9 and includes a locker. Stay all day and for dinner head out the park to the right and have the best roast chicken ever from one of the many roadside stands. A whole chicken is $17 which may seem steep until you take a bite and realize you'll need one all to yourself.
EATING/DRINKING/NIGHTLIFE
San Sebas: Not only does it give you an excuse to stop by beautiful San Sebastian Plaza (home to the Museum of Modern Art) but it serves Cuenca's Best Breakfast. You'll find Tex Mex favs and more. I bought some fresh organic kale from related San Sebas Farms here and Amanda bought some great art, SCORE! Open Wed-Sunday 8:30am-3pm.
Goza: Cuenca's Front Porch and gringo haunt. The food isn't so good and things are overpriced so we do we flock here? The Vibe. The location (Plaza de la Merced) is great for people watching from the big patio and on Saturday night a bumpin' dj spins while you sip overpriced cocktails until 11pm. Don't miss the mid-day chocolate cake and coffee special, yum!
Mercado 10 de Agosto: You can find anything in the big crazy Mercado in Cuenca's heart. Head upstairs to eat at one of the many commodores (Food Stalls). $3 gets you a delicious heaping plate with rice, veggies, salads, salsas and your pick of fish, pork, chicken and more. Find it on Calle Larga.
Sanduches Dona Piedad: Small counter-space only pork and turkey sandwiches shops are ubiquitous in Cuenca. This shop had the best turkey sandwiches for about $2. A whole turkey is slow cooked and shredded in it's own juices and slapped on a soft fresh roll. Don't skip the spicy red sauce to complete the tastiness. Do yourself a favor, start with at least 2. Find it on Juan Jaramillia between Miguel Estrella and Manuel Vega.
Noe Sushi Bar: Explore the posh side of Cuenca at delicious Noe. Prices ain't cheap but the sushi is delicious. We love splitting one of their platters so you can get a sample of all the goodness. Tax and tip is included, we missed this and paid WAY more than necessary.
El Pedregal de Azteca: Good Mexican food can be hard to find in Cuenca. This pricey but delicious OG Mexican spot had it down. Don't skip the delicious margaritas at Happy Hour!
Zoociedad: This No frills, all fun Dive Club is the biggest party I managed to find in Cuenca. People were literally hanging from the rafters (ok it was my friend but still...). Grab a table on the large patio for people watching. There's a cover of a few bucks.
La Cigale: See Review Above in the "Lodging" Section
SHOPPING
Barrancos Panama Hat Museum: To the annoyance of Ecuadorians the beautiful hat was attributed to Panama long long ago due to photos of a certain US Presidential visit. It doesn't make them less cool and you can buy em all over town in different degrees of quality and price. Stop here to get a sense of the real deal.
Plaza de San Francisco Market: Your one stop shop for all of Ecuador's amazing souvenirs. Haggling is A-Ok. Pro Tip: head into the little rooms along the main selling gauntlet. You'll find more selection and less people hassling so you can really check things out. Don't miss the lovely Mercado Artesenal steps away with great pieces in less frenzied setting. Find it on San Francisco and Padre Aguirre, blocks from Parque Calderon.
Hippie Market: THE spot for great hand made jewellery. Pieces range from exquisite stones set in silver to your run of the mill pot leaf hemp necklaces. Haggling is ok but they're pretty firm on the price of these baubles.Find it on the corner of Mariscal Lamar and Benign0 Malo, 2 blocks from Parque Calderon.
AYAMPE
25 Minutes north of backpacker party beach Montanita lies the tranquil mystical Ayampe. There is something about this town back by the Amazon Rainforest. The temp of the water is perfect, there are beautiful blue and green stones along the beach and the people are so kind. There's not much nightlife and food options are limited but if you're looking for serenity and a spiritual respite, this is your stop.
LODGING
La Buena Vida: Arguably Ayampe's best hostel/hotel. It's the front porch of this beautiful tranquil seaside surf town. Room's have AC, the included breakfast is delicious (served with a view of the ocean) and the owners are some of the nicest people you'll meet. You also get the benefit of attached Mauli Spa where those who had a massage by Andreita confessed it was the best we've ever had!
Finca Punta Ayampe: We didn't stay here but had a DELICIOUS lunch here and friends assured us their stay was great (they've got a pool!). It's a bit out of the main part of this itty bitty town but it's built into the jungle and offers incredible views and sunset magic.
TO DO
Nature Time: Snorkeling, Surfing/Surf Lessons, Diving, Fishing, Amazon hikes, and more can all be enjoyed. Check with the concierge desk at La Buena Vida for more info. If you're beach lounging all day you can grab a hammock for 50 cents and a real coconut for a few bucks, perfect.
Zen Time: Check out Yoga Classes at Otra Ola. They also have great coffee and Spanish Classes.
Spa Time: Book your massage at Mauli Spa right when you get into town. Andrea might have given me the best massage of my life.
Party Time: Ayampe doesn't have much for nightlife but luckily that's where Montanita comes in. This anything goes backpacker party beach has clubs with world class sound systems, sandy reggae beach bars and mid-scale lounges. Don't let the infamous stories deter you, just keep your wits about you. We had amazing ceviche at a place called Karukera and had the most fun just drinking and eating at the little stall bars lining the main street. Cabs to town will be about $15 and the city bus runs there for about $1.50.
Connect Time: If you're lucky enough to meet Jerry (on his computer at La Buena Vida or singing at Galvan's) ask him to show you his incredible house made of trash collected along the highways around Ayampe. It's truly amazing and his ideas for sustainable buildings made the same way will inspire anyone within ear shot.
EATING/DRINKING/NIGHTLIFE
PizzArte: Owner Patti is the coolest and her pizza is delicious. Located next door to La Buena Vida.
Galvans: Located at Cabana's La Iguana. The ever friendly Galvan serves up Columbian inspired food in a great setting. Go for the whole marlin, skip the boxed wine.
Azucar Morena: If the owner isn't out surfing and they are fully stocked (rare), enjoy a delicious fish burger in this place overlooking the ocean right on the beach.
Finca Punta Ayampe: Delicious fare served in a veritable tree house!
Local Eats: Head into one of the local places on the right side of town for cheap local plates piled high with typical Ecuadorian fare. (Walk stright from the market in the middle of town, beach to your left)
Selvamar: Pretty much the only spot you'll find something resembling nightlife in Ayampe. This is where the surfers and sexy Brazilians gather for beers and cocktails. Low frills but high fun and there's usually live music at some point in the night.
SHOPPING
La Buena Vida: There are no actual stores in Ayampe but the front desk here actually has some great stuff. From pants imported from Thailand to locally made AMAZING coconut oil (Ayamcoco) you can get your mini-shopping fix here. Head to Montanita for more options.
Quito
I only had a 12 hour layovers worth of time to spend in what felt like a really cool city. Trust me, take the dang Quito Tour Bus! It goes pretty far outside the city to Virgen de Panecillo (Ecuador's version of Christ the Redeemer) and gives you a feel for the whole city. I paid $5 to leave my bags, use the wifi and bathroom at Heritage Inn because I didn't want to go all the way to the airport and the Quito Airport has terrible dining/resting options. The staff at Heritage Inn called me a cab to the airport at the end of my day and Wilson Lopez of Mindo Travel gave me a cheap, safe, clean ride. He even went through a few spots that only locals know of to make a very cool ending to my quick trip in Quito. E-mail him for pricing to Quito hotspots that I missed like Mitad del Mundo and the much lauded Teleferico.(info@mindotravel.com)
HIGHLY RECOMMENDED LOCATIONS I DIDN'T GET TO:
-Banos
-Quilatoa
-Villcamamba
-Los Frailes Beach